Gary Powell war in gewisser Weise immer das Herz der Libertines. Wenn vor ihm die Egos clashten, hämmerte Powell breit grinsend auf seine Drums ein und überstand den Doherty-Barat-Zirkus gesund, drogen- und depressionsfrei. Dass der gute Mann bereits 42 Jahre alt ist, mag man gar nicht glauben!
Heute abend legt Gary Powell im White Trash in Berlin auf.
* YOUR THREE FAVOURITE PUNK SINGLES/SONGS?

.
** hatebreeders – the misfits,
** winnebago warrior – dead kennedys
** re-ignition – bad brains,

.
i was a big bad brains fan back i the day which then introduced me to the delights that was the dead kennedys and the cbgb's/DC set. it was great time for music.
* A RECORD TO MAKE YOU DANCE?

.
one record that will make me dance? groove me, by maximum balloon (featuring theophilus london, jneiro jarel remix).
* YOUR FAVOURITE SONG LYRICS?
"you told me stories bout your sycophantic past, the lies unveiled revealing all the skeletons unturned, and when you cry, there's tears of a clown, you make a joke of feelings that were once shared by me."
"the invasion of… horseman on a roof, music and lyrics by me!
* YOUR FAVOURITE SONG BY THE CLASH?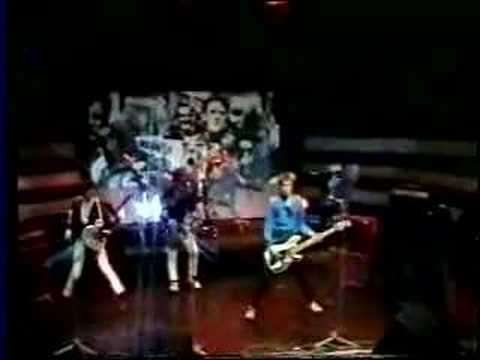 .
clash city rockers of course!!!!
* THE BEST NEW ARTIST/BAND THIS YEAR?
well that would be
** antlered man,
** black einstein and
the honorable south,
all on my label 25 hour convenience store!
* THE BEST SONG THIS YEAR SO FAR?

.
my best song this year would be 'ice-cream' by battles. great freaking song man!!!!
* YOUR FAVOURITE SONG BY THE NEW YORK DOLLS?

.
oh that's a tough one… that would have to be split between 'personality crisis, jet boy, and frankenstein! so much fun to play!!!!!
* YOUR FAVOURITE SONG BY PETE DOHERTY?
couldn't tell ya that. am still waiting for him to blow my socks off with something truly amazing.
* YOUR FAVOURITE BOOK ABOUT MUSIC?
leonard bernstein autobiography 'lenny'
folks not into classical music can be as snobbish about the genre, as classical music fans are about popular and alternative music. if you read about lenny you will see a man that loved all music and was no different to folks today, drinking and playing music all nite long! true legendary genius of the people!
* YOUR FAVOURITE FILM ABOUT MUSIC?
got to be foot loose with kevin bacon. let the kids rock – let the kids dance! ok, lest we forget MC5 A TRUE TESTIMONIAL. am looking forward to seeing the documentary about a tribe called quest as well.
* THE JAM, THE WHO OR THE SPECIALS – WHO DO YOU PREFER AND WHY?
got to be the jam! paul weller was something special and having had the opportunity to share a stage with him a few times i gotta show my allegiance baby!!!
* THE MOST OVERRATED BAND/ARTIST?
the libertines.
* YOUR FAVOURITE SONG BY A GERMAN ARTIST/BAND?
i hope this does not come across as too obvious but i gotta go with – KRAFTWERK – AUTOBAHN. the world can not forget the importance of this band as innovators of electronica. without karaftwerk we would not have electro hip hop, romantic pop, deep house, acid jazz, trance – and electro indie and dub step to name but a few. true innovators and great song writers!
* YOUR FAVOURITE RECORD OF ALL TIME?
i haven't written it yet…
HA!!!!
Mehr über die Libertines
Interviews
* Interview mit Carl Barât über seine Lieblingsplatten
* Interview mit Carl Barât über die Libertines, seine Solokarriere und sein Buchdebüt
Weiterlesen über The Libertines, Doherty & Barât:
Teil 1: Time For Heroes, Anfang 2005
Teil 2: Up The Bracket, Oktober 2002
Teil 3: The Gang Of Gin. And Milk., April 2006
Teil 4: Why Did You Break My Heart?, Mai 2006
Teil 5: Anywhere In Albion, September 2006
Teil 6: König wider Willen, Februar 2007
Teil 7: Das Ende des Konjunktivs, Oktober 2007
Teil 8: Narziss und Goldkind, Juli 2009
Plattenkritiken:
* Peter Doherty – Grace/Wastelands
* Peter Doherty – Last Of The English Roses EP
* The Libertines – Best Of
* Babyshambles – Shotters Nation
* Die zehn besten Alben 2009
* Peter Doherty: Books Of Albion
* Dirty Pretty Things: Romance At Short Notice
Livekritiken:
* What Became Of The Likely Lads: Frontreihenbericht von den Reunion-Gigs
* Two Days Doherty: was bleibt nach der Hymne?
* Pete – wie es wirklich war. Der Doherty und die Hymne.
* Pete Doherty solo in Berlin (2009, BerlinFestival)