In seinem jüngsten Interview mit dem NME begräbt Ex-Oasis-Mastermind Noel Gallagher nicht nur das Kriegsbeil mit dem alten Britpop-Rivalen Damon Albarn (für die Hintergründe der alten Britpop-Schlacht siehe auch hier), sondern ist gar voll des Lobes. Nicht so gut kommen dagegen Radiohead weg, auch wenn sich Noel noch zu einer Relativierung durchringt:






NME: Damon Albarn or Thom Yorke: which of the two would you rather collaborate with?
Noel Gallagher: Oh, Damon. We'd never been in the same room for maybe 10 or 15 years. And I always said to myself that if I ever was, I'd go and say "Fucking hell, alright man?" and shake his hand and let bygones be bygones. So, anyway, we were out at some nightclub a couple of months ago, and I was going to the bar. Turned the corner and bumped straight into him. We had a beer and were like "What was all that about…?" and "Remember that time…?" It was a great relief. I'm glad I've seen him and shook his hand and apologised for all the shit.
NME: So, 17 years since the infamous chat battle Oasis vs. Blur is finally, properly over?
Noel Gallagher: Yeah. There you go – that's over and done with.
NME: What about Radiohead?
Noel Gallagher: Well, I find Damon a lot more interesting than Thom Yorke. Not that I don't like Thom, or dislike Radiohead. I think, they're great live – but I couldn't listen to one of their records.
NME: Have you seen them when they play with two drummers?
Noel Gallagher: I need to give Thom Yorke a bit of an advice here. You only get two drummers 'cos you can't sack the other one. Just get rid of the cunt! If he needs me to phone him up, I've got rid of enough drummers, I'm an expert.
But if I was gonna make a record, it would be with Damon. For a start, he's mad as a box of frogs. Number two, he'd get loads of hip-hop dudes working on it, which itself would be fucking mental. And number three? It would be a better record…




Blur wiederum hatten gestern bei den Brit Awards ihren ersten Auftritt in kompletter Besetzung seit der Reunion-Tour und sind mit einem "Medley" aus Girls & Boys, Parklife, Song 2, Tender und This Is A Low aufgetreten: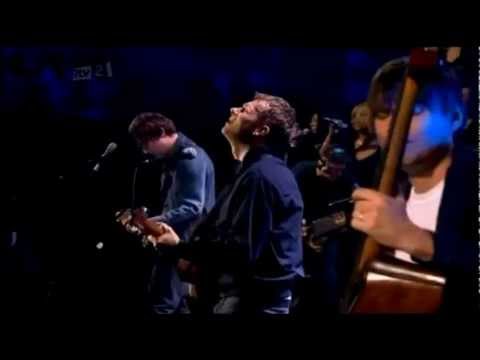 Bereits gestern morgen wurde angekündigt, dass Blur das Closing Ceremony Celebration Concert zu den Olympischen Spielen in London bestreiten werden – mit New Order und The Specials als Vorband:



und wiederum einen Tag zuvor sind Damon Albarn und Graham Coxon bei einem Charity Gig aufgetreten und haben den ersten neuen Blur-Song seit "Fool's Day", der Spontansingle zum Record Release Day, gespielt:



Ganz schön viel Wirbel bei den alten Britpop-Hasen dieser Tage!