Abschiedselogen über Chuck Berry wurden übers Wochenende viele geschrieben & das zurecht. Wir sagen baba mit einem kuriosen Fundstück aus dem Punk-Fanzine Jetlag von 1980.
Der Mann, der den ganzen Rock und Roll überhaupt erst begründete, hörte sich 1980 für dieses kleine Fanzine etliche der damals up-and-coming-artists der Punk & New Wave – Szene an. Und was soll ich sagen – natürlich war das alles nichts neues für ihn…
The Sex Pistols: "God Save the Queen"
What's this guy so angry about anyway? Guitar work and progression is like mine. Good backbeat. Can't understand most of the vocals. If you're going to be mad at least let the people know what you're mad about.
The Clash: "Complete Control"
Sounds like the first one. The rhythm and chording work well together. Did this guy have a sore throat when he sang the vocals?
The Ramones: "Sheena is a Punk Rocker"
A good little jump number. These guys remind me of myself when I first started, I only knew three chords too.
The Romantics: "What I Like About You":
Finally something you can dance to. Sounds a lot like the sixties with some of my riffs thrown in for good measure. You say this is new? I've heard this stuff plenty of times. I can't understand the big fuss.
Talking Heads: "Psycho Killer"
A funky little number, that's for sure. I like the bass a lot. Good mixture and a real good flow. The singer sounds like he has a bad case of stage fright.
Wire: "I Am the Fly"
Joy Division: Unknown Pleasures:
So this is the so-called new stuff. It's nothing I ain't heard before. It sounds like an old blues jam that BB and Muddy would carry on backstage at the old amphitheatre in Chicago. The instruments may be different but the experiment's the same.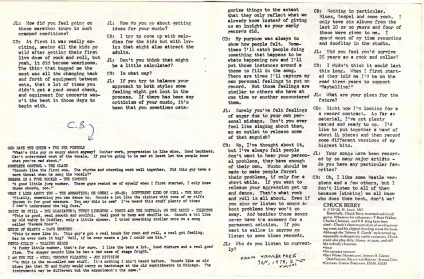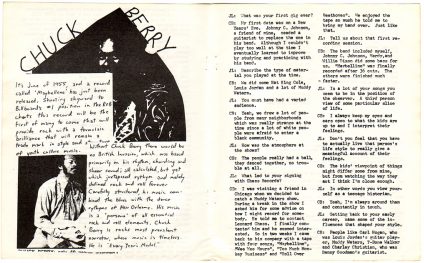 (Scans von den Fanzine-Seiten findet man in groß hier)
(via Dangerous Minds)