Nachdem wir mit den Indiepop-Aufsteigern Los Campesinos! unsere neue Rubrik "German Blind Date" eröffnet haben, sind dieses Mal mit den Walkabouts Klassiker des Alt.Country zu Gast. Wieder spielen wir unseren ausländischen Freunden fünf deutsche Songs vor und sind gespannt, wie Bands wie Tocotronic oder Ja, Panik klingen, wenn man im Grunde nichts über die Band weiß.


1. Tocotronic – Let There Be Rock (1999)



I am vaguely aware of Tocotronic, though I can't say that I have knowingly heard much of their music over the years. I do have some German friends who love them dearly though. That said, this song leaves me a little bit cold. I even checked out the English version of the song to make sure that I was "getting it." I guess I don't really like the ironic touches: the synthy brass, the cheap sounding wah guitar solo, the way the singer ever so casually sings "rock" on the refrain. The way he claims to believe in rock, though he is barely breaking a sweat. I am as tuned into indie-self-doubt as the next guy, but why be in a rock band if you don't truly believe in the redemptive power of the music? Give me AC DC's "Rock and Roll Train"!
I really like this song, in all its androgynous, post-post-punk glory. The guitar and drums are sharp and boldly simple and the yelping vocal reminds me of vintage Lora Logic or X-Ray Spex. The repeated lyrical mantra "Don't change your ways, don't change your life" comes off as a heated, necessary statement of the singer's personal and sexual politics. And the video is cool; it wraps all of this up with a healthy sense of humor.


3. Jetzt! – Kommst Du Mit In Den Alltag (1987)





I wish I could understand the lyrics because one senses that they are good. The song has a strong hook, and the ending with the second vocalist builds up nicely, and the conviction of the singer and the band is clear, but never overwrought. I am not sure what the German musical references are for this type of music, but it somehow reminds me of 80's Scottish groups like Orange Juice or Aztec Camera. Also brings to mind the very early Go-betweens.


4. Ja, Panik – Nevermind (2011)



A solid song. I like how the drums stay out until the last minute. It keeps the tension taut and unfolding. The singer has an understated but expressive voice that maintains its warmth and its authority from the beginning to the end. For a song like this to really work though the lyrics need to be special. I do sincerely hope that they are…


5. Hans Unstern – Paris (2009)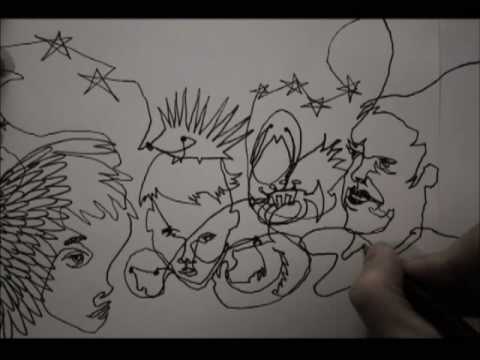 I am starting to wonder if the xylophone is for today's indie rock, what the fuzz-box was for 80's indie rock? I played a festival in Spain a few years back and all three of the young bands that played before me had someone playing xylophone. Anyway, with or without the xylophone (or is it a vibraphone?) I like the sound of this song. The textures are rich and transparent and the arrangement builds nicely. The vocalist's tonality is a little squeezed for my taste but he knows what he is doing and the melody is pleasant. Somehow it all seems a little French, and it seems that the title is an obvious tip-off to this. Reminds me a bit of Pascal Comelade or early stuff from Yann Tiersen.


(Antworten: Sänger und Gitarrist Chris Eckman)


The Walkabouts auf Tour:
19.1. München, Feierwerk /
20.1. CH-St. Gallen, Palace /
23.1. Berlin, Lido /
24.1. Hamburg, Fabrik /
25.1. DK-Copenhagen, Vega /
26.1. Frankfurt, Brotfabrik