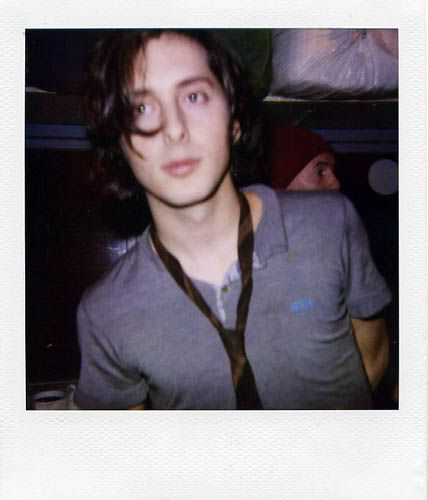 Carl Barât, Ex-Libertine und Dirty Pretty Things – Frontmann


beim Klick hier dann auch in groß und lesbar: bitte, klicken!
edit: aus den Kommentaren der gemeinsame Versuch einer Reinschrift…
* 3 favourite Punk singles:
Jilted John – Jilted John
Fugazi – Waiting room
Sex Pistols – Anarchy In The UK
* The Stone Roses, Happy Mondays or Primal Scream – which one do you prefer?
The Stone Roses for their northern purity
* a record that will make you dance:
The Contours – Do You Love Me
* best song this year so far:
Glasvegas – Daddy's Gone
* best "new" band right now:
Amazing Baby (New York)
* best song by The Clash:
Guns Of Brixton
* best / first gig ever attended:
Rage Against The Machine (reading festival)
* Favourite Song by Doherty:
Killamangiro
* best song by Cooper Temple Clause:
Panzer Attack
* The Jam or The Who?
The Jam – more fire
* favourite german record:
Kraftwerk – We Are The Robots
Weiterlesen:
* My Favourite Records… mit John Hassall (Yeti, The Libertines)
* My Favourite Records… mit Adam Ficek (Babyshambles)
Libertines/Doherty/Barât-Texte:
Teil 1: Time For Heroes, Anfang 2005
Teil 2: Up The Bracket, Oktober 2002
Teil 3: The Gang Of Gin. And Milk., April 2006
Teil 4: Why Did You Break My Heart?, Mai 2006
Teil 5: Anywhere In Albion, September 2006
Teil 6: König wider Willen, Februar 2007
Teil 7: Das Ende des Konjunktivs, Oktober 2007
Plattenkritiken:
* The Libertines – Best Of
* Babyshambles – Shotters Nation
* Dirty Pretty Things – Romance At Short Notice
Mp3s:
* Music When The Lights Go Out
"Romance At Short Notice", das zweite Album der Dirty Pretty Things, ist am 8. Juli bei Merury/Universal in Deutschland erschienen.