My first visit to Germany was in the summer of 2006. Istanbul- Munich. My "Gastearbeiter" aunt invited me for three months to her home, because she was very proud of the only person in her family who was going to study at one of the best universities of Turkey. My father cried a lot at the airport when we were saying goodbye. It was our family habit to cry at the airport when we were saying goodbye to our working class family living in Germany. Other passengers were so impressed seeing a 2 meters long, strong guy crying like an innocent baby. A woman with secular look who was in front of me at the visa control line asked me:
"Are you going to Germany because of marriage, my daughter? You are too young to marry, don't do it! If your family is making you do it, you should report them to the police."
I was irritated but tried to suppress the anger and answered with the arrogance of an 18 year old:
"No, I am going to Munich to visit the house of Rainer Werner Fassbinder. My aunt invited me to spend three months with her. I will visit all the museums and theaters".
The woman looked at me with empty eyes:
"Fass? Is that a beer brand?"
This time I looked at her with empty eyes and said shortly:
"No, an avantgarde film director." and pretended like I was looking for something in my bag.
We passed the visa control, the plane took off and I landed at the Munich Airport. I was so excited, it was my first time in Europe, homeland of art and culture I was craving for since my teenage years.
My aunt and all my cousins happily welcomed me at the exit. I was so happy to see them but also incredibly curious looking around, trying to store all the pictures in my hungry memory. The airport looked boring but the neighborhood of my aunt was amazing. She was living in the Müllerstraße (I would find out years later, that it is the same Müllerstraße where Fassbinder's early theater plays took place). The street was full with gay bars, like really full.
We went home, exchanged the last news about our families and my then 24 years old cousin asked me with a teasing voice:
"So, what would you like to do here, Merve?"
"I want to see all the museums, I want to visit Fassbinder's home and I want to go to Olympia Park and to the concentration camps around Munich."
My aunt who was cooking my favorite börek answered:
"Wow, you want to do a lot of things but we don't have so much money and we also promised your mother and father that you cannot go out alone."
"Whatttttt? But I am 18 years old!" I screamed.
"I am sorry Merve, you are a pretty young girl, you don't speak German, it is very wild in this neighborhood. No, I cannot take this responsibility that something happens to you. We will try to go to the some of the places you want but not all of them. There are nice parks here, we can go to the parks."
I was too sad to give an answer; I excused myself and went to the toilet to cry. I felt like my whole excitement was sucked by a vacuum cleaner.
Just like in my parent's home in Istanbul, I found myself a favorite window to observe the life outside, flowing like a Fassbinder film in front of my young and hungry eyes. My aunt was right, in the evening it got so crazy lively in the Müllerstrasse. Young, pretty boys were kissing each other, men and women were walking topless, drinking colorful alcoholic drinks.
Next day, we went to the Marienplatz, wow, what a church is that Fraunkirche! My neck started to hurt after an hour cause I was just looking up and down, left and right all the time to make sure I don't miss any impressions of the busy street. At some point, I saw a small cherries stand. There were so many different cherries, I saw for the first time like blueberry.
"Aunt, what are these?"
"Blueberry. Do you want to try?"
I nod my head happily. The guy behind the stand said something in German with a smile but on the contrary my aunt and cousins were not smiling at all. I asked in Turkish to my cousin:
"What did he say?"
"He said; you still couldn't learn German to ask blueberries yourself?"
I didn't know why but it didn't feel nice what he said, and I wanted to respond to him myself. I answered him in a fluent English, hoping he would understand English as well:
"Hello sir, I don't speak German yet, I just arrived yesterday to visit my family here but I really want to learn German language, most of my favorite writers, film directors are German, I want to read them in their original language."
The guy seemed shocked. He didn't seem to expect these sentences from a young woman in hijab.
Days were passing by, we were mostly going to the parks as my aunt said. One time we were at a nice lake, not to swim, just to look around a bit. But I felt like we became the object of many spectators around us who were openly laughing at us. We were just having a small picnic. What was wrong with that?
One day, I could convince my older cousin to go to Deutsches Museum, I was so amazed by it. And couple of times, we have been to the movie theater only to see soulless Hollywood movies. Why were they not showing the movies of Fassbinder? I searched in the Internet but couldn't find any movie theater that was showing my favorite German director's films that summer.
In the evenings, we were going often to mosque-houses. I was so frustrated. Did I come to Germany to spend my summer exactly the same way I spend all my summers in Istanbul? As if this was not enough, my aunt was telling everywhere what a great Quran reader I was and pushing me to read Quran in front of many women. I was pissed off but I couldn't say no. I was seeing a deep request in the eyes of young and old women sitting in a small room with sad eyes. I was wondering, why everybody in those mosque-houses look sad. So, with a hope to smooth their soul a bit, I started reading Quran with my famous poetic voice. When I was finished with the suras, the sad eyes of the beautiful women were full with the same satisfaction I see today in the eyes of my fellow yoga practitioners. It was so confusing for me as I actually was in the process of losing my religion.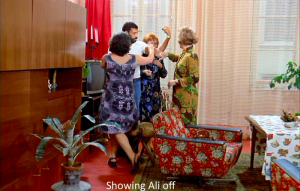 After a month, these nights became the only time I felt myself good in Munich besides the time I was reading the books my cousin was bringing for me from the city library. The women there were not hitting me harshly to move aside like that elderly white woman did in the tram. If she asked me kindly, I would already move to the other seat, so that she could have three seats free for herself, but she didn't, she preferred punching my small belly. It hurt so much. Not the physical pain but to be punched like that while I was actually being friendly to her.
Three months were over. This time my aunt was crying at the Munich airport, I was crying too. Not because I couldn't manage to see Fassbinder's home, but because of getting to know so many women with sad eyes.
12 years passed by since my first visit to Germany. In the meantime, I watched all of Fassbinder movies at various art-house movie theaters in Istanbul, Vienna and Berlin. I read many books about him in German language. I left my assigned home country, Turkey because of predictable reasons an antiracist feminist face everyday and became a qualified Gastarbeiter for Germany. I live in Neukölln, Berlin since 4 years. The neighbourhood of a lot of pseudo and authentic Fassbinders. I still see the same sad look in the eyes of Muslim women, when I take a walk on Sonnenalle. I feel like this shared sadness got even deeper in those beautiful eyes. When I see one of them alone walking nervously looking on the floor like my aunt used to do in Munich, I try my best to catch their attention and give them my sincerest smile, hoping that smile carries the message I am too coward to utter with words:
"Sister, keep your head up! This world is the world of lovers, not haters."
*German version of this article was published by Jungle World on 08/07/2018