Berlin.
So it's raining in Berlin. Lots and lots of rain. So what can a band do!!
Well first we get some amazing curried sausage and chips. It's totally true that the fine people of Germany love sausage, and they have the best curry powder a man could wish for. Lawrence also commented on how good German mens beards were and a whole table of German gents who spoke fluent English heard him. It was pretty embarrassing cause he had full face make up on and they clearly thought he was cracking on to them. What's a boy to do!!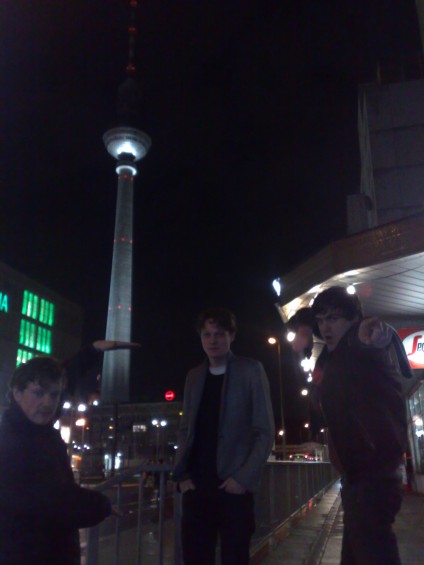 We've also been hitting the German and TV radios, including the excellent Motor FM. We had to set up for our live performance of "So Tomorrow" in less than 30 seconds to take away the title of "Speediest Band" from Eagles of Death Metal. Of course we did, that's because we must prove that despite our english whimsy we can absolutely pull out it out the bag in a transatlantic speeding fest.
We're now back in the flat (flats in berlin are absolutely awesome, Peaches used to live in the flat below the one we're in) listening to Jay Zs Glastonbury set with our stand in drummer Alex White of Electric Soft Parade/Brakes fame. We're going to hit Checkpoint Charlie soon and do an unplugged version of Girl From The BBC for the fine folk of East Berlin. Surely in some way this is OSA's spiritual home. Secrets, walls, divided governments and art as protest. That's how OSA are gonna be rolling from here on in. Just with added alloy rims and tinted windows.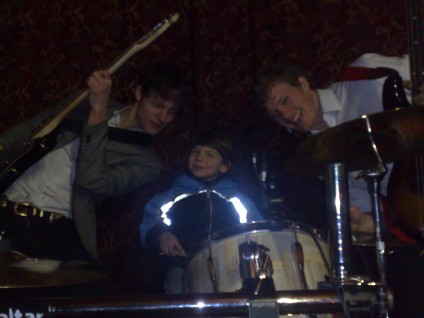 So it's 5 days to "Girl From The BBC" (Anm: Titel der neue Single) and 17 days till Understanding Electricity. Here is a fact about each to whet the appetite. The Girl From The BBC went and got a job for Al Jazeera TV. We found this out recently. But to late to change the title. Understanding Electricity was named after a book we found in a photographic studio while doing our first NME shoot. That's not it's exact title but the gyst was there. Hamburg tomorrow. We will speak more then I hope!