Auch wenn der Albumtitel der No Kids ("Come Into My House") damals in einem Rutsch weggelesen für Verwirrung sorgte, gehört die kanadische Formation zur wahrscheinlich freundlichsten Spezies in der Musikwelt. Dass sich Nick Krgovich (Sänger & Songwriter) nicht nur mit niedlichen Tieren auskennt, beweist er in der heutigen Ausgabe von My Favourite Records.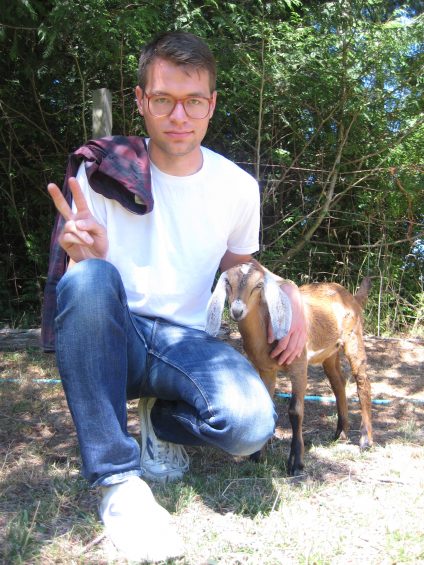 Your favourite Punk singles/song?
"On My Mind" by Marine Girls.
[youtube]http://www.youtube.com/watch?v=wvtaL8dbMpM[/youtube]
.
A record that will make you dance?
"Let's Hear It For The Boy" by Deniece Williams.
Favourite new kids on the block right now?
I like Nite Jewel a lot.
Your favourite song by Peter Doherty?
I heard Babyshambles from the top of the bleachers at Primavera for about 40 seconds once in 2005.
Your favourite songlyrics?
Impossible question for me. I've been really into everything about the song "Highwayman" written by Jimmy Webb. Popularized by The Highwaymen in 1985. I love Johnny Cash's verse about being an astronaut the best. Weirdly moving.
Best recent concert?
Saw Dâm-Funk in Rotterdam a couple weeks ago and it was tremendous. Also, Baby Dee last winter was really something.
First record you bought for yourself?
I remember going to the record store with my Noni and picking out "Like A Virgin" when I was maybe 2 or 3 years old. When my parents came to pick me up at her house later that afternoon I remember her saying "Tell them what you got today Nicholas?" and me being stumped and then she stretched the collar of her sweatshirt over her shoulder and I was like "Oh, a Madonna tape!".
Favourite city/country to play?
The USA.
Favourite girl group recording?
"Out In The Streets" by The Shangri-Las.
[youtube]http://www.youtube.com/watch?v=NFAV75uOk6Y[/youtube]
.
Phil Spector or The Spectators?
The one with the hair.
Canadian or British Invasion?
I like "Odyssey and Oracle".
Your favourite german song/record?
[youtube]http://www.youtube.com/watch?v=FMkgSkS6c4o[/youtube]
.
I often get Ute Lemper's version of "Die Moritat von Mackie Messer" stuck in my head when I'm cleaning the house.
Your favourite album cover?
Another impossible question although I always enjoy looking at the cover of "Get Lost" by The Magnetic Fields.
The best movie about music?
Nina Simone: Live at Montreux 1976.
Best song about kids?
"Sometimes I Feel Like A Motherless Child" sung by Odetta.
[youtube]http://www.youtube.com/watch?v=n9s2Gy9lydk[/youtube]
.
Die hervorragende EP Judy At The Grove erscheint Ende Mai als 12″ auf dem erneut geschmackssicheren Kölner Indielabel Tomlab