IDLES sind die Band der Stunde – dass ausgerechnet der rauhe, brüllende, politisch agitierte Sound der Band aus Bristol die englischen Albumcharts knackt und ihr zweites Album "Joy As An Act Of Resistance" bis auf Platz 5 hochschießt, konnte man nun wirklich nicht erwarten.
Es gibt keine andere Band, die so wichtig für diesen Moment wäre und umso schöner ist es, dass die Gruppe um Sänger Joe Talbot mit ihren Songs und Texten in der Zwischenzeit mehr als die eh schon Bekehrten zu erreichen scheint. Sicherlich auch der Wucht ihrer Liveauftritt wegen. Was zuletzt bei ihrem Jools-Holland-Auftritt in die Wohnzimmer der britischen Nation gebeamt wurde, war eine TV-Performance, wie man sie seit Ewigkeiten nicht mehr gesehen hat:
* Your three favourite Punk singles/songs?
** Anthony & The Johnsons – I Am A Bird Now
** Public Enemy – Fight The Power
** Sleaford Mods – Jobseeker
* A record that will make you dance?
Girl Band – Holding Hands With Jamie
* Your favourite song lyrics?
"There are leaders and there are followers / I'd rather be a dick than a swallower"
* The best "new" artist / band right now?
Fontaines DC
* Your favourite song about rebellion/revolution?
Dead Prez – Hip Hop
* Fat White Family, Shame or Sleaford Mods – which one do you prefer and why?
Sleaford Mods. They are exciting in their own true way and have something so human that can't be ignored.
* Your favourite song last year?
Protomartyr – A Private Understanding
* Your favourite book about music?
* Your favourite song about London?
The Specials – Ghost Town
* Your opinion on Morrissey?
My opinion on Morrissey is nicer than Morrissey's opinion on Morrissey.
* The most overrated band/artist?
Pink Floyd, of old. But most new music is savagely overhyped.
* The best song you've ever written / recorded?
** Samaritans
** Colossus
* Your favourite german song/record?
Hope – Kingdom
* Your favourite record of all time?
Van Morrison – Astral Weeks
(Antworten: Sänger Joe Talbot)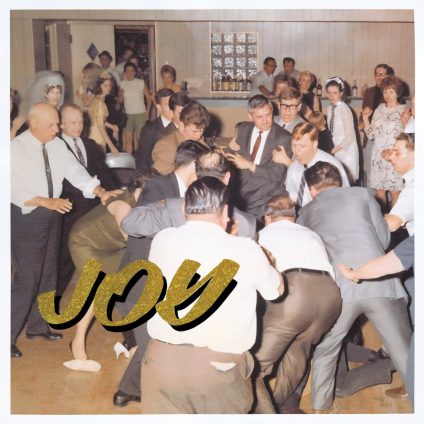 Das Album ist bereits erschienen, eine Hymne darauf kann man hier lesen.
Auf Tour:
FRI 9 NOVEMBER
Knust
Hamburg, Germany
SAT 10 NOVEMBER
UT Connewitz
Leipzig, Germany
SUN 11 NOVEMBER
SO36
Berlin, Germany
WED 14 NOVEMBER
Flex
Vienna, Austria
FRI 16 NOVEMBER
Ampere
Munich, Germany
SAT 17 NOVEMBER
Palace
St. Gallen, Switzerland
SUN 18 NOVEMBER
Bad Bonn
Dudingen, Switzerland
MON 19 NOVEMBER
Mascotte
Zürich, Switzerland
TUE 20 NOVEMBER
Les Docks
Lausanne, Switzerland
SAT 13 APRIL
Club Manufaktur
Schorndorf, Germany
MON 15 APRIL
Gloria
TheaterCologne, Germany
TUE 16 APRIL
Forum Bielefeld
Bielefeld, Germany
WED 17 APRIL
E-Werk – Erlangen
Erlangen, Germany