Sensitive punches on the concrete floor of Kraftwerk. Sensual punches embodied from a lifetime spent on deconstructing aggressive masculinity. A mesmerizing performance starting on the margins of the stage. KıRKPINAR is not only a subtle act to include the audience into a ritual of rethinking violence but also a symbolic presentation of territory marking topped off with soundscapes that were simultaneously grasping the spectators with the tension one would recognize of Ulrich Seidl (or Michael Haneke if a more mainstream reference is needed) and releasing the body and psyche any ancient or modern meditation would enable. Accompanied by çay, nuts and some chocolate in the serenity of my office, caner and I shared some words on working on violence through body and sound while centering care, affection and consent in the core of a performance, queering the space, entering western spaces in ritualistic ways and the thrill of the crowd upon witnessing their genre-bending piece KıRKPINAR at Berlin Atonal's adventurous Metabolic Rift treat in October 2021.
When was the first time you experienced Oil Wrestling (Yağlı Güreş)? Were you there in person or did you experience it through online media?
i wanted to do a piece about violence so much. that's why i started to research martial arts, especially Brazilian Jiu-Jitsu in 2018. i definitely came across oil wrestling online, but never experienced it live. some people from the gym i used to go started to joke that i could also check oil wrestling, and i was like, wait, that's actually interesting. i started to search for videos and pictures of oil wrestling performed in turkey.
i specifically focused on wrestling since there is also a big role of music in the traditional performance of it. how the wrestlers enter the field of performance accompanied by a particular music, perform a dance that can also be perceived as salutation, and these younger boys go around with oil cans so the wrestlers can oil each other before beginning the performance. the whole thing is like a ritual. and then comes the actual match between two wrestlers which is quite an in your face competition of hypermasculinity. i particularly focused on that.
KıRKPINAR opens up with punching the floor in the first part, and the second part is about queer intimacies, within softness. experiencing this vulnerability through this piece, was an eye-opener. there is an idea of displaying violence i had in my mind but when i moved through it, it was softness that came out.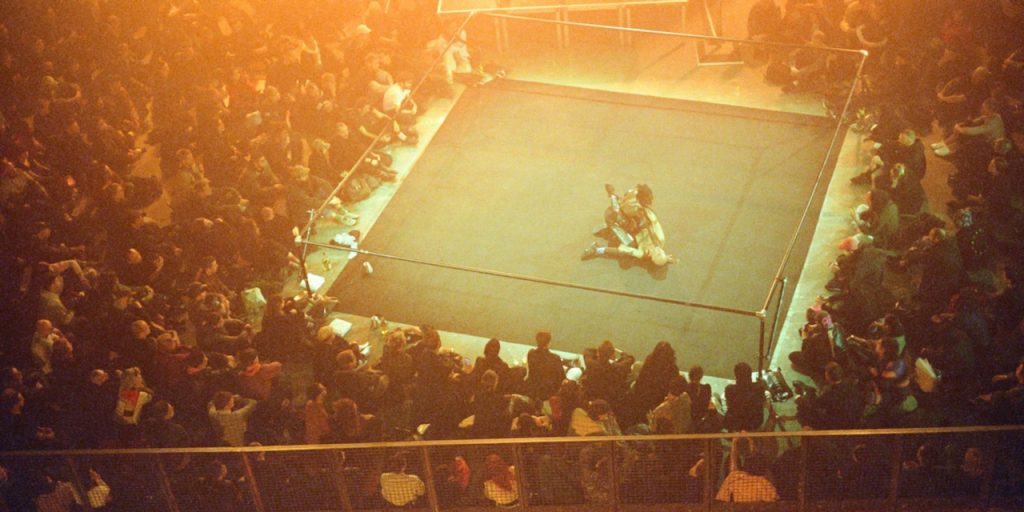 How did you explain this traditional macho sport to people you collaborated with (the other performers, the musicians, production team, Atonal, Julia Stoschek Foundation etc.) Especially the western receptors? I find it quite challenging in my projects which are queer deconstructions and re-narrations of musical and artistic concepts from Turkey in specific and Middle East in general. How is your experience with that?
i usually let the material speak for itself. once i implement the picture of oil and wrestling together, there is enough space for translation in one's head.
in terms of conceptualizing the piece, i am quite serious about the material and i hope people also take me seriously. the context also matters. in the gym, people were making jokes about oil wrestling but when you talk about it in a theater context, people's approach is different since there is curiosity involved, organically people support you.
i had to think a lot about how to translate the piece though since i never experienced oil wrestling in real life. i worked with a team where i was the only Turkish person. we are a team of 2-3 people but still with all our particular identities. how would we be present in a space with all these different identities? i was performing a national sport of turkey, so how was i going to transform it into a space of western theater? i was asking myself, if i should perform it with another Turkish performer or does it have to be a person who has the technique to do it. another aspect was working through hypermasculinity. in the first performance of KıRKPINAR, i decided to work with a person that breaks the gender binary and in this second performance at Metabolic Rift, i decided to work with a nonbinary person. for me the translation should come through gender, not through ethnicity, otherwise the reference would be too close and the representation too thin.
in the music production for the piece, i felt very good. people really took care of me. the collaboration with Lou has been very supportive, especially when i think the sound designers were not previously familiar with Turkish music.
Could you open up a bit more the collaboration with the sound designers? I heard samples of Zurna and Tulum and also samples from the genre Halay. Did you present the musicians and the producers various folk music recordings from Turkey and they produced the sound for the performance? Was the music and sound patches different at previous performances?
exactly! the tulum was from a song "Yol Havası" which is a folk song from Black Sea region. in the main wrestling part, the sound was formed with the idea in mind to make it sacred.
there are choir sounds and the kick drum was applied to simulate the sound of heartbeat and we built up towards more melodrama. Zurna and Davul sounds came in to make it more intense. at the end we had a dialogue between the zurna and the violin, culminating in the breathplay of the wrestling. it was creating this dramaturgy that is like neverending circular tension.
Neverending tension! That's it! Thank you for naming it for me. This brings me to another topic I am curious about. You performed KıRKPINAR in different spatial environments? If and how different was the experience of performing it at Metabolic Rift? Did the concrete brutality and spatial aesthetics of Kraftwerk add up to it or not? How was your overall feeling about collaborating with the Berlin Atonal team?
i always adjust the performance according to the space. there is a specificity coming with it. i performed KıRKPINAR at Sophiensæle during Tanztage in 2020. i was going to perform it at Schinkel Pavillon but it got cancelled due to COVID 19. in February 2021, the the Julia Stoschek Foundation invited the performance KIRKPINAR for their group exhibition "A FIRE IN MY BELLY".
i think there were two important aspects about performing KıRKPINAR at Metabolic Rift. one is capacity. the second is performing the piece with a new performer. it was the first time there were two people on stage who are nonbinary. when i came to the space of Kraftwerk, i asked myself how we could hold the space for so many people. the facilitation and choreography come from us but there is so much energy coming towards contouring the crowd and that's usually partially the task of the institution, partially mine. the Atonal team did a great job about that. in the end, i think, if the space is bigger, the performance doesn't necessarily has to be bigger. the scale of the ring you saw at Kraftwerk was the same in Sophiensæle, 6×6 meter. half of the piece was done within this 6×6 meter ring, which is very small for Atonal's space, the other half on the margins of the ring. there were a lot of discussions about how the people would be able to see the piece.
the Atonal team and the Julia Stoschek Foundation have always been very accommodating and supportive. From what i heard was that they have never seen Atonal in a way during a performance where the crowd was so focussed. I'm super grateful for their support!
You did a great job there by primarily starting on the margins of the stage and I couldn't help thinking that it had traces of a Brechtian approach, expanding the stage out of the defined counters which enabled an organic interaction with the crowd. And I agree with you that the Atonal team did a great job too! The lightning was very well done as well, orientating the audience who had no idea what they would witness in a few minutes.
yes, they were great. yeah, you are right with the reference to Brecht. we definitely thought of breaking the stage hierarchies, also at Sophiensæle we started at the margins of the space. when we came to the stage, the audience already circled around this carpet stage and there was expectation of the gaze but then we actually crawled around with intense breathing and there was a lot of tension building.
What was for your account, the most interesting or striking feedback you got after performing KıRKPINAR?
intense! that it comes across so violent but also so soft (giggles). people's reaction i got from Atonal was ranging between panic attack to a deep release or discharge.
Very aesthetic also, no? At some moment, I felt it was like having a 5 x dark room experience, not that I have actually had this experience, nor that the piece comes across essentially as a sexual piece.
i know what you mean. it comes through the material. Ah, also another feedback i got was the queer feeling the piece delivered.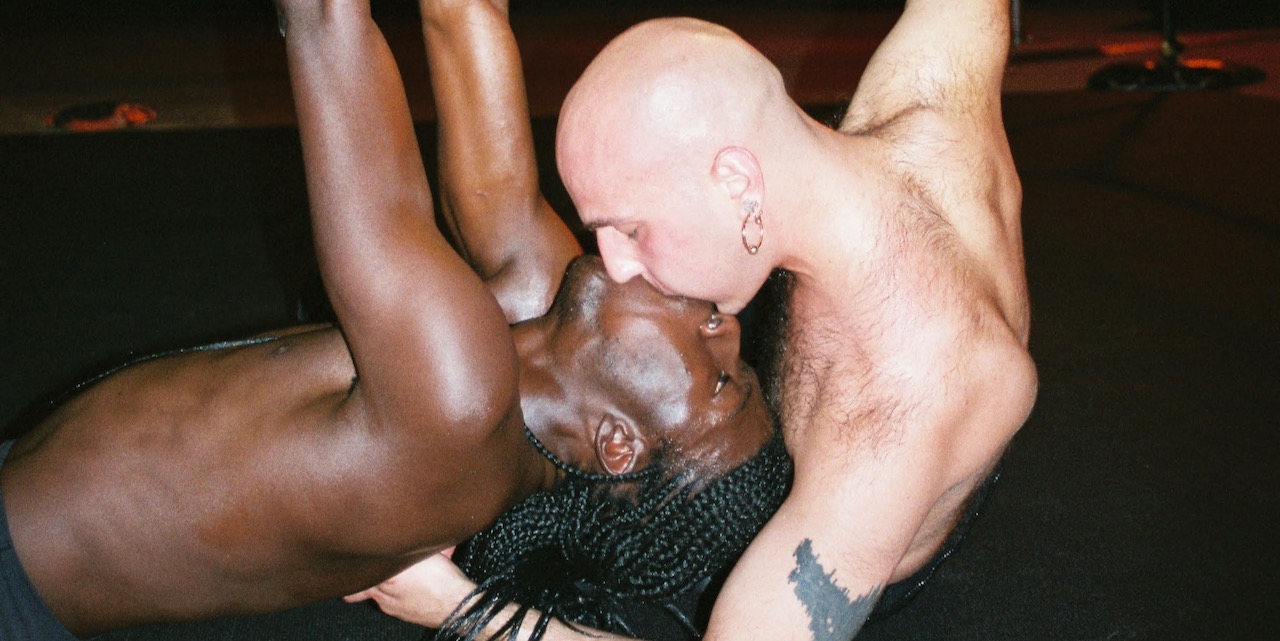 How did you prepare yourself for queering the space? Did you have a ritual or a mantra before getting on the stage?
the ritual starts already before performing the piece for the spectators, as in we warm up together. if it's not too hectic, i as a facilitator bring together the team to do some release through screaming or massages.
Do you mean there is a risk of internalizing the codes of original oil wrestling?
yeah, you now, there is risk in violence, as in authenticity of displaying it. consent is very important for me. the interesting aspect in Jiu-Jitsu is that they work very consensually. they go in together, and there is this quiet masc hand sign which seems like a high five. you have the code of tapping out. non-verbal communication as in finding hand signs for consent was very significant for our dynamic.
i don't know if it was visible but we also paid attention to all these things through eye gazing while performing KıRKPINAR cause the safety of us is as important as the safety of the audience.
It was very visible. I think, also your pace added up to the sensual transmittance of the performance. At least for me, the piece came across quite attentive, cautious, and full of care.
yes, because otherwise you can hurt yourself since it is a very thin line when you work with violence.
I hope I don't fall into the notorious misgendering hype or assuming the gender identity of you or your co-performer Élie but since the piece is a critical reading or deconstruction of macho masculinity, I felt like, many elements of KıRKPINAR, like this punching the floor part for example was also a metaphorical reference to the "Boys Don't Cry" narrative. Because I can imagine also for the people who work professionally as oil wrestlers, it must be so stressful to perform a very much anticipated and desired act of hypermasculinity. I also think the reason oil wrestling is mainly limited to the region KıRKPINAR is a consequence of this. How has your personal emotional world transformed after performing KıRKPINAR for the public since 2020?
much later in 2021 i decided to go through a transition myself, and in so, translating from this performance through hyper-masculinity to the self I am today.
i wanted to choreograph the piece as ritualistically as possible. it was at this level that i perceived performances as rituals. there are all these theories about how to enter theater spaces in a ritualistic way and i took that as a marker to create my performance. when you have a ritual, you experience transformation. not only you as the performer, but also the audience as they become witnesses, they are not just spectators. the reception of that, the semiotics, is out of my hands.
it is super affectionate and emotional to give life to this piece. it is so much about vulnerability, like releasing the stress out of my body. you know, all these concepts of trauma, hierarchies and power, being violent or what does concept mean in spaces… i just ruminated about all these and the framework came from this investigative search I've been through.
It is yet another amazing reasoning you had 🙂 What are your next projects, caner?
on December 2, 2021, i will have the book release of "ALMANCI" published by Wienand Verlag at Museum Kuppersmühle Duisburg.
i will perform KıRKPINAR at Les Urbaines on December 3-4 in Lausanne.
last but not least, i will produce a new work for "Hit by an Echo" at Haus der Kunst in Munich, next year, March 3-13, 2022.
Thank you for this amazing exchange <3
For a photo-video of KıRKPINAR, click here