Wir hatten ja schon zu Jahresbeginn berichtet (hier und hier), dass sich eine Rückkehr von Bill Drummond & Jimmy Cauty aka The KLF aka The Justified Ancients Of Mu Mu aka The Timelords aka The K Foundation aka etc pp abzeichnet.
Nun, 23 Jahre nachdem The KLF einen "Vertrag" auf ein Auto geschrieben hatten, das dann von einer Klippe gestoßen wurde, kehren die beiden subversivsten Stars der Popgeschichte tatsächlich zurück:
Jimmy Cauty and Bill Drummond signed a contract with the rest of the world agreeing to end the K Foundation for a period of 23 years.
This postponement provides opportunity of sufficient length for an accurate and appropriately executed response to their 'burning of a million quid'. The K Foundation's fate now lies irrevocably sealed in the imploded remains of a Nissan Bluebird nestling among the rocks 600 feet below Cape Wrath, Scotland
Das 23jährige Moratorium endet und "Welcome To The Dark Ages" beginnt: so heißt das dreitägige Programm, das in Liverpool vom 23.8.-25.8. aufgeführt wird. Dazu wurden 400 Tickets verkauft, wobei sich jeder Käufer verpflichten musste, auch "Volunteer" zu sein. Zusätzlich veröffentlichen Cauty & Drummond ein Buch namens "2023: a trilogy", das gestern in Liverpool zum ersten Mal verkauft wurde. Für den Verkausstart fuhren Drummond & Cauty natürlich in einem Ice Cream Van an, einem ewigen Bestandteil der KLF-Mythologie (und übrigens Ursprung/Referenz von Scooters "Respect To The Man In The Ice Cream Van"):
Hier wurde ein eingebetteter Medieninhalt blockiert. Beim Laden oder Abspielen wird eine Verbindung zu den Servern des Anbieters hergestellt. Dabei können dem Anbieter personenbezogene Daten mitgeteilt werden.
Das nächtliche Book Signing hatte dabei die folgenden Regeln, meine Favoriten sind
"Traditional handshaking is permitted, but no hipster derivatives.
Do not attempt to take a selfie with the JAMs or with anyone else ever again."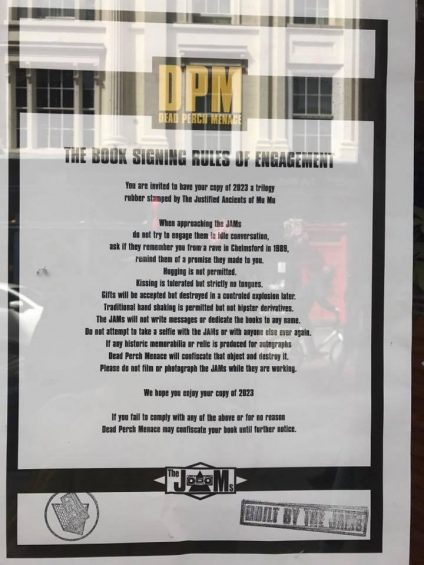 Das weitere Programm, kryptisch wie gehabt, ist den Volunteers nun ausgehändigt worden: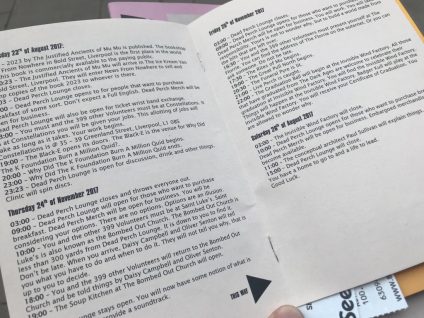 Gott, ich liebe The KLF. Und die Justified Ancients Of Mu Mu.
(Bilder z.T. via Peter Robinson aka popjustice)